If you have a prepaid number, you can only sync contacts.

Ensure your Verizon Cloud app is actualizada ya que los siguientes pasos se aplican a la versión más actual.
Tap the Verizon Cloud icon .
Tap the Navigation Menu icon (upper-left).

Oprime Configuración.

Qué respaldar
Cargar fondo
Cómo copiar
Dirección de correo electrónico
Qué respaldar
Drag the switches left or right to enable/disable Backup settings.


Enabled when in the green position.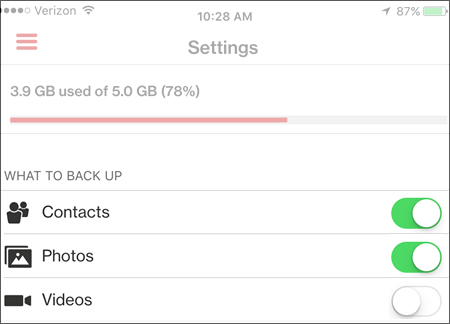 Temas relacionados:
Cargar fondo
Arrastra los botones hacia la izquierda o derecha para habilitar/deshabilitar la configuración Background Upload.


La configuración Background Upload está habilitada cuando el botón está verde.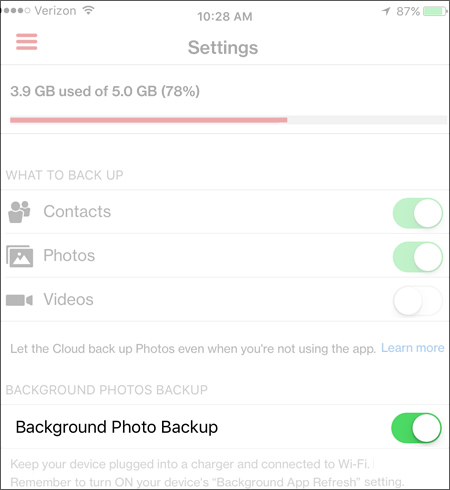 Temas relacionados:
Cómo copiar
En la sección How to Back Up, selecciona la opción de red:


Seleccionada cuando hay una marca de verificación.
Wi-Fi Only
Wi-Fi + Mobile Network
Temas relacionados:
Dirección de correo electrónico
Tap Email Address.

Enter or edit an email address then tap return.

Temas relacionados: