Asegúrate de que tus apps are up to date ya que los siguientes pasos se aplican a la versión más actual.
From the Home screen, tap the Verizon Messages app (Message+) .
Para buscar la aplicación, puede ser necesario que tengas que deslizar el dedo hacia la izquierda o derecha en la pantalla de inicio.
Tap the Settings icon (ubicado en la parte inferior derecha).
Tap Manage Devices.

Ver número conectado
View the phone the device is paired with.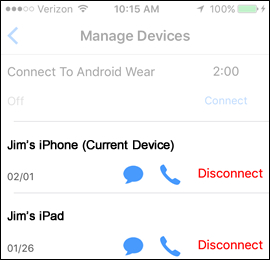 Desconectar dispositivo
Tap Disconnect next to the device to be removed.

Oprime OK.

For additional info on Verizon Messages (Message+), check out these Preguntas.