Notas:
To transfer content directly from one device to the other refer to Acceder a la aplicación Content Transfer para obtener ayuda.
Contacts are automatically restored to the device during the installation and configuration process.
Having a memory card in the device may be required for Verizon Cloud to work.
For best results, set up Verizon Cloud when the device has a good connection to the Verizon cellular network.
Select Verizon Cloud from the apps screen then tap Install.
If necessary, tap Play Store then enter Verizon Cloud in the search field (top).
If the Cloud app doesn't open automatically, open it from the Apps list.
If prompted, tap the Switch icon to turn permissions on o desactivar then tap NEXT (upper-right).
If presented, tap Allow to grant Cloud access to content on the phone.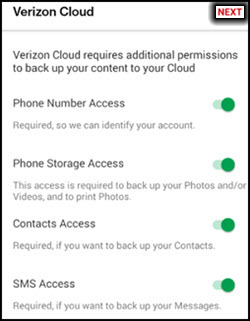 Oprime Get Started.
If prompted, enter the My Verizon password for the device then tap Sign in.
The phone number must be registered en Mi Verizon.
If prompted, enter the one-time PIN sent via email during first-time setup then tap Next.
Select the desired option(s) then tap Next.
Option selected when a checkmark is present.

Si se te solicita, oprime Register.
If you choose 'Not Now', you can set up a profile after setup is complete.