Notas:
Ensure your GizmoHub app is actualizado to the most recent version.
For more info on the GizmoHub 3.0 app, refer to GizmoHub FAQ's.
Tap the GizmoHub icon .
Tap Create an Account.

Elige entre las siguientes opciones:
Personal Email Address
Tap Personal Email Address and enter your personal info and password, then tap Create Gizmo Account.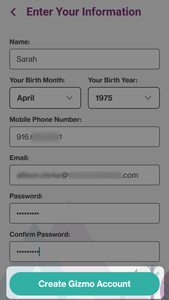 Sign in with Google
Tap Sign in with Google.
Elige entre las siguientes opciones:

Cuenta de Google existente
Agregar cuenta