Notas:
Ensure HD Voice is activados.
Para activar, se necesita una dirección de EE. UU. válida para la función E911.
Activation requires a cellular data or Wi-Fi network connection.
Wi-Fi Calling settings don't transfer after switching devices and/or performing a factory data reset.
Make and receive calls over Wi-Fi when outside of the Verizon network coverage area.
Wi-Fi Calls always originate in the US, even when a customer is outside of the US.

Calls to US numbers are not billed (except for 411 or other premium calls).
Las llamadas a números internacionales se facturan de acuerdo con el plan de larga distancia internacional del cliente.
From the Home screen, do one of the following:

Navigate: Apps icon > Settings > Advanced Calling.
Navigate: Apps icon > Settings > More > Advanced Calling.
Swipe up or down on the Home screen then navigate: Settings > Connections > Advanced Calling.

Oprime Activate Wi-Fi Calling.
If you have downloaded the Package Disabler Pro app or a similar app, disable it if the Wi-Fi calling activation process has an error. After Wi-Fi calling is activated and working, re-enable the app for use.

To proceed, review the Terms & Conditions then tap CONTINUE.
Ensure the Terms & Conditions option is checked .
Enter the emergency location information (E911) address then tap SAVE.
This info gets transmitted to the emergency dispatcher for all 911 calls made over a Wi-Fi network. If address validation fails then the users will be prompted to enter a new address until a valid address is entered
Upon successful validation of the address, Wi-Fi Calling turns on.
Power-cycle the device if not in the Verizon Wireless coverage area or traveling internationally.

Método alternativo
When placing a call in a no network coverage/Wi-Fi only area, the device displays the following options:
YES, TURN ON WI-FI CALLING
Visita paso 2 to complete the activation process.
NO, THANKS
No volver a recordarme
Está habilitado cuando una marca está presente.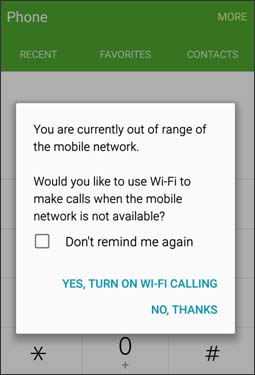 Tema relacionado:

Make Wi-Fi Calls