Número de marcación rápida
Menu Option
Editar número de mensaje de voz
Access from a Different Phone or when Outside the Verizon Wireless Coverage Area
Número de marcación rápida
From the main screen, press and hold the 1 (one) key.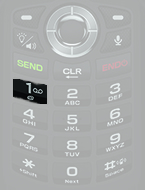 Opción Menú
From the main screen, select Contacts.

Highlight Voice Mail.

Press the Send key.
Editar el número de los mensajes de voz
En la pantalla principal, selecciona Menu.
Usa el dispositivo de navegación de 5 direcciones para resaltar y el botón central para seleccionar.

Select Tools & Settings.

Selecciona Settings.

Select Call settings.

Select Voicemail.

Select Voicemail number.

Press the CLR key to remove unwanted numbers, enter the preferred numbers then select Save.
To ensure correct dialing, only use your 10-digit mobile number or *86 as your voicemail number.
To add a wait or pause:

Press the left soft key to choose numbers.
Select Symbols.
Selecciona una opción:

Wait.
The device waits until the SEND key is pressed a second time then continues to dial additional digits.
Pause.
The device pauses 2 seconds then continues to dial additional digits.

Selecciona Guardar.
Access from a Different Phone or when Outside the Verizon Wireless Coverage Area
Llama a tu número de móvil de 10 dígitos.
If dialing from an international location, refer to Hacer una llamada internacional para obtener asistencia adicional.
As soon as the Voicemail greeting starts, press the # key then enter the Voicemail password.
Si se te indica, vuelve a ingresar el número de móvil.