For additional info on camera settings, refer to the 'Camera and Video' section of the user guide Guía del usuario.
From a Home screen, tap the Camera icon (ubicado en la parte inferior).
For general camera settings, tap the Camera Settings icon (ubicado en la esquina superior derecha).
From the Default screen, swipe the screen from left to right.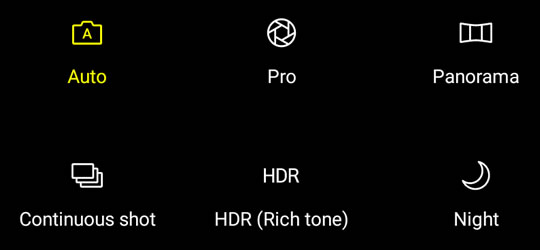 Automático
Tap the Auto icon to allow the camera to evaluate the surroundings and determine the ideal mode for the picture.


Pro
Tap the Pro icon to manually adjust the ISO sensitivity, exposure value, white balance, and color tone.


Panorámica
Tap the Panorama icon to create a linear image by taking pictures in either horizontal or vertical direction.

Disparo continuo
Tap the Continuous shot icon to take pictures continuously by touching and holding the camera button.

HDR (Rich Tone)
Tap HDR to allow the camera to change the light sensitivity and color depth features to produce a brighter and richer picture.


Noche
Tap the Night icon to allow the camera to adjust for low-light and night shots.


Configuraciones
After tapping the Settings icon
, select an option then adjust as preferred: