Nota:
Desde una pantalla de inicio, ve hasta al ícono Apps > Camera icon .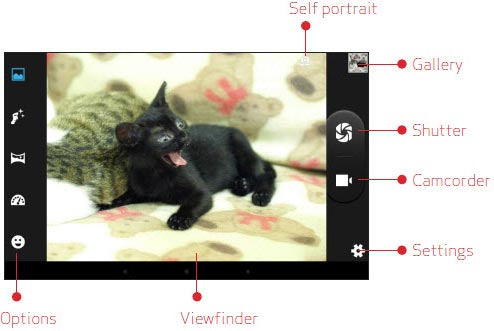 Self Portrait
Tap the Switch Camera icon to switch between the back camera and front camera.


Shutter
Tap the Shutter icon to take a picture.


Videocámara
Tap the Camcorder icon to record a video.


Configuraciones
Tap the Settings icon, to change the camera settings.

Settings include three categories:
Configuración de la cámara
Face Detection - Tap ON to display rectangles around the detected faces. Tap OFF (default) to disable.
Picture Size - Set the image resolution. Select the proper setting value: QVGA/VGA/1M pixels/1.3M pixles/2M pixles/3M pixles(default).
ISO - Adjust the camera sensor's sensitivity to light. Select the proper settings value: Auto (default)/100/200/400.
Configuración del video
Microphone - Tap ON (default) to record the video with voice. Select OFF to disable the function.
Time lapse interval - This option determines the speed of your output video. Select the proper setting value: Off (Default)/1/1.5/2/2.5/3/5/10 seconds.