To learn more about your vehicle's health status from the app, website, or monthly summary, view this info.

Notas:
The Hum OBD (On-Board Diagnostics) reader receives diagnostic information from your car to alert you of any potential issues.
You can view this diagnostic info real time from the Hum app or the Hum Customer Portal (website).
At the beginning of each month, you receive a summary of events Auto Health Report that gives you a summary of diagnostics and any alerts or reminders you have set.
Real Time - Hum App
Real Time - Hum Customer Portal
Monthly Auto Health Summary
Real Time - Hum app
From a Home screen, tap the Hum app.
From the Dashboard, locate the Auto Health section.
An icon in the middle displays overall vehicle health with one of these options:

No issues detected (green in color)
Needs attention (yellow)
Issues detected (red)

The dashboard displays vehicle status along with the number of diagnostic codes returned on the left and maintenance reminders on the right.

Real Time - Hum Customer Portal
Log into the Hum Customer Portal.
Click Sign In (upper-right) to enter your login info.
View the Auto Health Overview section for specific diagnostics and overall status.
Click SEE AUTO HEALTH HISTORY for past error codes and reminders.

Monthly Auto Health Report Summary
View the following sections to examine info on your past month's vehicle history:
Driving History (e.g., distance traveled, average speed, etc.)
Auto Health (e.g., battery, mechanical, etc.)
Recordatorios de mantenimiento
Alertas de límites
Alertas de velocidad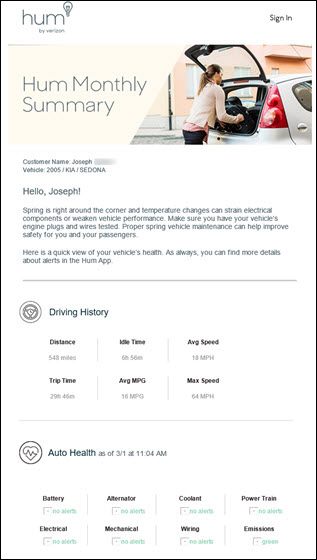 Si quieres más información, echa un vistazo a estas Hum FAQs.