Only customers on El nuevo Plan Verizon are eligible for Safety Mode.

Safety Mode es una función opcional del nuevo plan Verizon que te permite seguir usando data a velocidades reducidas después de que hayas usado tu asignación de data del mes. Puedes estar conectado a Internet sin preocuparte por los cargos por exceso de uso. For more information on Safety Mode, check out these Preguntas frecuentes.

Notas:
Safety Mode can also be enabled or disabled via the My Verizon app.
Las configuraciones disponibles varían según el tipo de usuario (por ej.: propietario de la cuenta, administrador de la cuenta, miembro de la cuenta).
En un navegador de Internet, inicia sesión en  Mi Verizon.
From the My Verizon Home screen, navigate: Data > Data Overview.
From the 'My Usage' page, determine if Safety Mode is enabled or disabled:
Safety Mode está habilitado
To disable, click Disable Safety Mode then follow instructions to disable.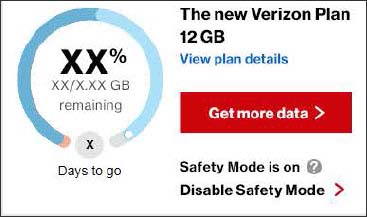 Temas relacionados:
Safety Mode is Disabled
To enable, click Enable Safety Mode then follow instructions to enable.

Temas relacionados: