Check out these Preguntas frecuentes para obtener más información sobre Verizon Cloud.

Notas:
To open, download, delete and restore documents and create favorites in Verizon Cloud, follow these steps.
Ensure your Verizon Cloud app is actualizada as the steps below apply to the most recent version.
Las imágenes pueden diferir según el fabricante.
Tap the Verizon Cloud icon .
Tap the Navigation Menu icon (upper-left).

Tap Documents.

Tap the Contextual Menu icon (esquina superior derecha).
Tap Sort View.

Tap an option then tap OK.

Date Uploaded
Nombre del archivo
Extensión
Tamaño

Tap the Contextual Menu icon.
Tap Select Documents.

Select a document then tap the Contextual Menu icon.

Download or Restore
Información
Borrar un documento
Crear Favoritos
Abrir un documento
Descargar/restaurar
Oprime Download.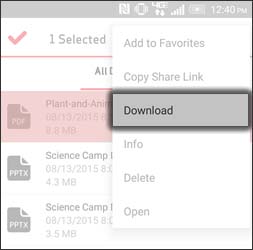 Temas relacionados:
Información
Tap Info.

View the document details then tap Close.

Temas relacionados:
Borrar un documento
Oprime Delete.

When prompted with 'Delete', tap Yes.
Temas relacionados:
Crear Favoritos
Tap Add to Favorites.

Temas relacionados:
Abrir un documento
Oprime un documento.

Si te lo solicita, selecciona la aplicación a usar para abrir el documento y luego selecciona una opción.
Temas relacionados: