Notas:
The steps below only apply to iPhones running iOS 9.0 and higher.
To verify the current version of your app, do one of the following:
Steps vary based on app version.

Tap the Menu icon (upper-left) then check Version number.
Tap More (lower-right) then tap About and check version number.
GizmoHub 2.x
Oprime Settings .
Only the options below with the * are available for the 2nd Caregiver:
Lugares

Ingresa los nombres de los lugares que tu hijo visita con regularidad.
Tap Places.
Tap +.
Ingresa una dirección en el campo Search y oprime la dirección una vez la aplicación la ubique.
Enter the place name at the top and tap OK.

Modo silencio
Tap Quiet Mode.

From the Quiet mode turned on/off screen, tap OK.
Llamadas con respuesta automática
Tap Auto-Answer Calls.

Tap OK to enable feature.
From the "Auto-answer turned on" screen, tap OK.
Las llamadas con respuesta automática duran solo un minuto.
Contactos aprobados
Tap Approved Contacts.

Tap the Plus icon +.
Enter contact's name and phone number and then tap Save.
Timbre
Tap Ringtone.

Choose from one of the following:

Ninguno
Story time
Summer vacation
VZW airwaves
Water balloons

Oprime OK.
Sonidos divertidos

Change or turn off the Fun Sounds for the Gizmo.
Tap Fun sounds.

Elige entre las siguientes opciones:

Ninguno
Play Gizmo Talk
Play Gizmo Travel

From the "Fun sounds changed" screen, tap OK.
Desactivar banda
Tap the Turn off band.

From the "Turn Off" screen, tap Turn off band.
No puedes activar la banda desde la aplicación.
Band Software Update
Tap Band Software Update then follow the on-screen instructions.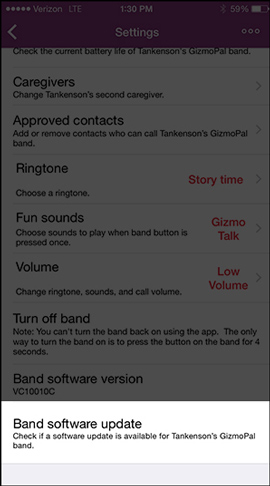 GizmoHub 3.x

For more info on the GizmoHub 3.0 app, refer to GizmoHub FAQ's.
Open the GizmoHub App .
Tap Gizmo card (lower-right).

Configura los siguientes ajustes:
Nivel de batería
View the battery level of the Gizmo.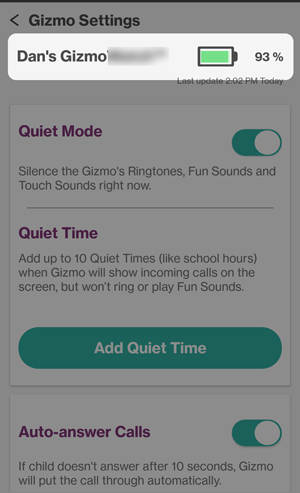 Quiet Time
To set up Quiet mode, tap to turn on o desactivar .
Tap Add Quiet Time to select time and day that Gizmo is going to be quiet.

Set the preferred time and days, tap Save.

Auto-answer Calls
Tap Auto-answer Calls to turn on

o desactivar
.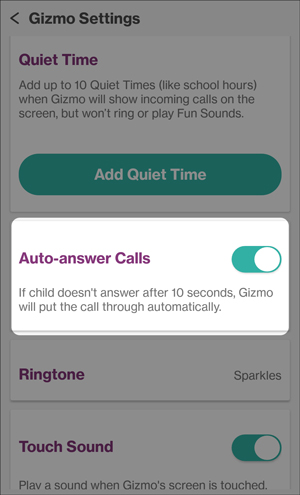 Timbre
Tap Ringtone select preferred ringtone.

Tap your selection and tap SAVE.

Touch Sound
Tap Touch Sound to play a sound when the Gizmo screen is touched.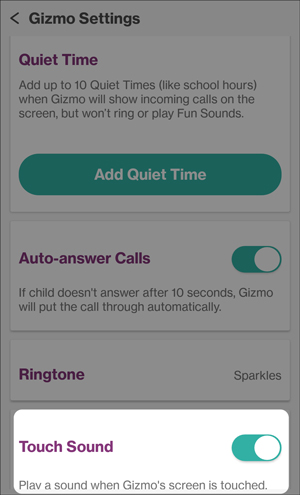 Volumen
Tap Volume to switch between Low Volume
or High Volume

.
Sonidos divertidos
Tap Fun Sounds to choose the following sounds:
Fun sounds allows you to change the sound that plays on GizmoPal when a character is tapped.

No fun sound
Gizmo Talk
Gizmo Travel
Assigned to
View Assigned to see who is wearing this gadget.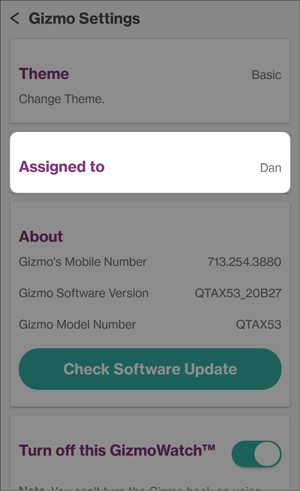 Acerca de
In the 'About' section view:

Gizmo's Mobile Number
Gizmo Software Verizon
Gizmo Model Number

Tap Check Software Update to make sure your gadget is up to date.

Turn off the Gizmo or Delete Gizmo
Tap the off switch to Turn off this Gizmo.

Tap Delete Gizmo to remove a Gizmo from application.